Impressive Brain Exercises : Brain games aren't a new concept. There are already several brain-training apps that have become popular in recent years. People who regularly participate in these types of activities have proven to be more alert and focused than those who don't. What you might not know, however, is that even simple tasks like reading or writing can double as brain exercises when done correctly. By integrating these activities into your daily routine, you can improve your memory and focus at the same time. It will also keep your brain active and healthy as you age. So what exactly are these brain-boosting activities? Let's take a look!
1) Read a book
Reading is often associated with childhood, but it's something everyone can enjoy at any age. By reading every day, you'll improve your vocabulary and critical thinking skills. Additionally, it has been shown that frequent readers have brains that are more efficient at processing information, making them better at everything from decision-making to problem-solving. Reading also helps you relax in a way that's different from other activities.
When your mind is engaged in a story, it's not as focused on the stress in your life. This makes reading an excellent way to de-stress without hindering your health the way stress can. It's best to choose books that are not related to your job or other areas in which you want to excel. Reading fiction is great for your creativity, but non-fiction books will help you learn new things and expand your knowledge about a variety of subjects.
2) Write in a journal
Journaling can have a powerful effect on your mental health. It has been shown to reduce stress, improve your mood, and even help you sleep better. Furthermore, it's a great way to track your progress and reflect on your goals. It's important to make the journaling process as effective as possible. That means setting aside a specific amount of time to write in your journal each day.
It also means choosing a journaling format that works best for you. Some people prefer to write in a physical journal while others are better off using a digital journal. Whichever option you choose, make sure you don't rush the process. Instead, focus on how you're feeling and how you want to improve. Remember, journaling is a way to get your thoughts and feelings out. It's not meant to be perfect.
3) Play games that require focus and dexterity
Games that involve focus and dexterity are a great addition to your daily routine. These activities can boost your attention and coordination skills, which are important for staying sharp as you age. They can also be a lot of fun and provide a distraction from everyday stress. Several activities fall into this category. If you're more of a puzzle person, you might enjoy a game of chess or Scrabble.
If you're more into movement and strategy, you might be better off playing table tennis or chess. It's important to choose a game that is at the right level of difficulty for you. If the game is too easy, it will offer little challenge and therefore limited benefits. If it's too hard, it will make the experience less enjoyable and more frustrating.
4) Incorporate exercise into your routine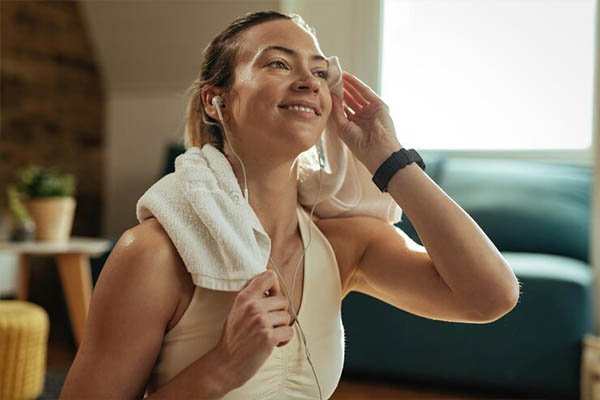 Exercising isn't just a great way to improve your physical health, it's also a good way to improve your mental health. It has been shown to reduce stress, improve mood, and even help with sleep. It's important to find an exercise routine that is challenging but not overwhelming. If you're just starting, try to do at least 10 minutes of exercise each day. As you get more comfortable, you can increase the duration or try a new exercise. Some people like to incorporate their fitness routines into their daily schedules. Others prefer to exercise at a set time every day. It's important to find a routine that works best for you and fits into your daily schedule.
5) Learn a new language
While this might seem like an unusual choice for brain exercise, it's a very effective one. Whenever you learn something new, you're challenging your brain to adapt. This is a great way to keep it strong and prevent mental decline. It's best to choose a language that's very different from the languages you already know. By picking a language that's challenging, you'll see even greater results. It's also a good idea to find an online course or join a class. When you learn a language, you're not only picking up new words and grammar rules, but you're also improving your memory and learning new study skills.
6) Practice memorization and math skills
Some people might find it strange to suggest that memorization and math skills are good ways to exercise your brain. But it's true! When you practice these skills, you're engaging your brain in a new way. It's important to choose skills that are challenging but still allow you to succeed. If you're practising math skills, don't try to do long division problems. Instead, focus on simple addition and subtraction problems. And when it comes to memorization, try to choose topics that interest you. It's easier to remember things when they are connected to something you enjoy. You can practice these skills while you're waiting in line or during other spare moments throughout the day.
Also refer t o : 4 Ways to Improve Your Mental Health With 7-Minute Workouts
Conclusion
It doesn't matter how old you are, you can always do something to keep your mind sharp. It's important to remember that a healthy brain doesn't happen overnight. It takes time and effort. That's why it's important to integrate brain exercises into your daily routine. By doing so, you'll not only improve your focus, but you'll also reduce stress. And who doesn't want that? The best way to stay sharp as you get older is to stay active. Start incorporating these activities into your daily routine today.