Mental health is just as important as physical health, but it's often not given the same recognition. Many things can affect your mental well-being, from stress to loneliness and even depression. Working out helps you relieve stress, stay productive and focused, and improve your mood. This can in turn boost your self-confidence and help you manage any mental health issues you may be experiencing.
Working out is also a brilliant way to keep your brain active and improve its ability to learn new things. It can even increase the volume of the hippocampus, which is responsible for learning and storing new memories. Keep reading to learn more about how exercising benefits mental health, as well as some great tips on how you can integrate workouts into your day to feel happier and less stressed.
1) Short workouts are just as effective
When many people think about working out, they think about lifting really heavy weights or doing a long cardio session, followed by hours of stretching. This isn't the best way to combat stress and improve your mental health, though. Long workouts can increase anxiety and stress levels, while shorter, gentler workouts can reduce them. Studies show that shorter workouts cause the body to release serotonin, which is responsible for feelings of happiness, less cortisol, a hormone that acts as a source of stress, and endorphins, which are mood-boosting chemicals. This is especially helpful if you're feeling anxious or even depressed. You don't need to spend hours at the gym to see results!
2) Exercise can help you manage stress and anxiety
Stress and anxiety are extremely common in today's society, and they can seriously affect your mental health. Exercising is a great way to relieve stress and anxiety, and can even prevent it from occurring in the first place! Depending on what kind of workout you do, you may find that you become tired, which is the best way to deal with stress. It's also important to note that exercising regularly can help you become accustomed to being stressed out. This means that when you're faced with a stressful situation, your body isn't as affected by cortisol, which is the chemical released when you're stressed out.
3) Exercising can lift your mood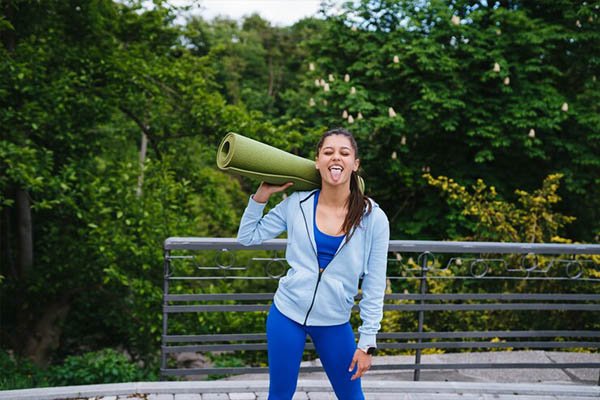 Exercising releases a ton of wonderful chemicals in your body, including endorphins, serotonin, and dopamine, which are all responsible for making you happy! This can be especially helpful if you're feeling down and blue, or if you're suffering from depression. Exercising has been proven to be just as effective as taking antidepressants when it comes to treating depression, and it could even work better for certain people. This is because when you're on antidepressants, you're also experiencing side effects. Exercising doesn't come with any negative side effects, making it a much healthier way to treat your depression!
4) Exercise can help you sleep better
Exercising before bed has been proven to help you sleep better. This is because when you work out, your body gets flooded with endorphins, which are the chemical responsible for making you feel happy. Endorphins are also responsible for making you sleepy. Exercising before bed can also help regulate your circadian rhythm, which is your body's natural sleep cycle. If you're having issues sleeping, try exercising right before going to bed!
Also refer to : 6 Tips for Better Health You Can Start Doingmmediately
Conclusion
As you can see, there are many benefits to exercising. It can help you sleep better, relieve stress and anxiety, lift your mood, and even improve your mental health. It's important to note that not all exercises are created equally. Some exercises are better for your mental health than others. It's best to speak to your doctor before starting a new exercise routine, especially if you're currently experiencing mental health issues, to make sure that your routine is the best fit for your needs!