Take a Bath to Feel Calm, Relaxed, and Inspired : A bath can be the perfect way to unwind after an exhausting day, giving yourself time and space for just you and your thoughts. Even if your life seems full of demands on your attention and time, taking a bath could feel like a luxurious indulgence if everything seems chaotic and overwhelming.
But consider it this way: A bath offers one of the few opportunities in your day when you can focus your full attention on relaxing and unwinding, providing much-needed stress relief while opening our minds up to new approaches for tackling life's challenges. Read on to understand more of its value!
1) Breathe, Meditate And Be Still
Wanting to stay calm and relaxed? Try practicing this breathing technique: inhale through your nose for four counts, hold for four counts, release all air at four counts – repeat this cycle several times until it feels comfortable for you. When we feel anxious or stressed out, our breath becomes shorter and shallower which reduces oxygen flow to our brains, increasing anxiety. To find greater calm and relaxation try breathing with slow deep breaths through both nostrils for four counts each time; do this breathing exercise repeatedly until you feel ready for bed.
Deep breathing helps us deal with stress by increasing oxygen flow to the brain, and helping us remain centered. Being in the bath, you're already relaxed so this time is ideal for meditation – close your eyes and let go of thoughts that surface from within yourself and find inner peace.
2) Create And Renew
Take a Bath Try sketching, painting or writing in your bathtub for some inspiration and an outlet of ideas and thoughts that's been plaguing you. A bath is an effective way to ease stress while giving yourself some much-needed relaxation at the same time! It can help unburden and clear the mind while treating yourself at the same time!
Painting or writing can help you explore and express emotions you don't know how to express. By getting those emotions out on paper, they may help you better understand and move past them in life. When the water starts getting cold, stop your creative session. Clean your workspace, allow it to dry completely before storing away.
3) Pamper Yourself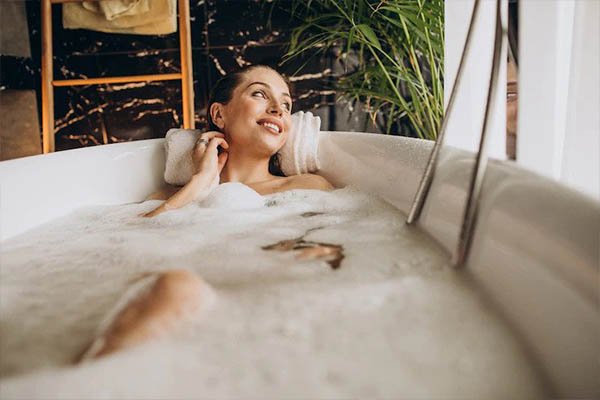 Take a Bath Treat Yourself! Unleash your creativity as you pour yourself a luxurious bath oil, pick out an indulgent bath bomb or make your own bath salts. Add dried flowers or herbs for an unforgettable bathwater experience, play music, use essential oils, play games or use essential oil diffusers – or pamper yourself even further by adding milk, oatmeal, yoghurt or even coffee into the water for an indulging soak!
Coffee is an effective exfoliant, clearing away dead skin cells to leave skin looking smoother while helping reduce cellulite and stretch marks. Oats also make an effective moisturizer with anti-inflammatory and soothing properties while yogurt's lactic acid serves as an exfoliator reducing scars and blemishes.
4) Light A Candle
Candles add an elegant and relaxing element to any bathtub experience, instantly elevating it and helping you unwind at the same time. Their scent or light can even have an immediate impact on your mood – think mood-boosting scents like grapefruit, bergamot, sandalwood and lavender for example – perfect for helping relax you or making you feel positive and calmer. Plus they leave your bathroom smelling divine too!
A scented candle can also help you relax if you have difficulty sleeping. Start lighting one a few hours before bed and let its fragrance fill the room for at least 30 minutes to help induce sleep faster and stay asleep longer. This could help ensure you fall asleep faster.
5) Watch The Clouds Move
Start Your Bath Close your eyes, lie back in your tub, and let yourself be carried off by the clouds. Allow the weightlessness of water support you as you make silly faces or sounds underwater to release tension or stress. Being immersed in water can be very therapeutic and restorative when combined with soft lighting – try creating your own private spa session in your bathtub today.
6) Take Time To Think And Write
Picture Credits: mes A bathtub can be an ideal place for reflection and inspiration. Writing can help you record your goals, dreams and aspirations or explore thoughts and emotions; take this time to review what worked and didn't today and plan for improvements tomorrow; writing can also be used as a therapeutic outlet and help reduce stress; this form of introspective activity could help calm nerves while remaining productive once back out in real life.
Also refer to : 5 Weird Things That Swimming Does to Your Body
Bottom line
A bath is a wonderful way to unwind and relax. It can clear your head, reflect and be inspired – providing an opportunity to pamper yourself while unwinding and relaxing at the same time – so why not take the time out now to indulge yourself with some much-deserved R&R? You deserve it!