Take a Bath and Feel Calm, Relaxed and Inspired : A bath sounds like the perfect way to end your day. It's a little ritual that you can keep for just you, a time when you turn off the world and tune into yourself. If you feel like your life is overflowing with things that demand your attention and time, then taking a bath might seem like a luxury.
But think about it this way: A bath is one of the few moments in your day when you can give your undivided attention to relaxing and unwinding. A soothing bath not only helps us stay stress-free but also clears our minds so we're inspired to tackle the challenges of life in a new way. Read on to know how and why.
1) Breathe, meditate and be still
If you want to stay calm and relaxed, try this breathing technique. You can breathe in through your nose for a count of four, hold for four, and then let the air out for four. Repeat the cycle for a few minutes. When we're stressed, we tend to take short, shallow breaths. This makes us feel more stressed because it reduces the flow of oxygen to the brain.
Deep breathing reduces stress because it increases the flow of oxygen to the brain, which helps us stay calm. When you're in the bath, you're already in a relaxed state. So you can use this time to meditate. Close your eyes and let yourself slip into a state of calm. Let go of the thoughts that press on your mind.
2) Create and renew
Try drawing, painting or writing in your bathtub. Let the water, colours and thoughts flow freely. If there's something you've been mulling over in your head, a bath is a good place to let go of what's holding you back. It's a great way to de-stress and clear your head while also giving your body some extra pampering at the same time.
Painting or writing can help you explore and process emotions you're feeling but don't know how to express. Getting those feelings out on paper can help you understand them better and move forward with your life. When the water starts to get cold, end your creative session. Clean your work surface, dry it, and let it dry out completely before storing it away.
3) Pamper yourself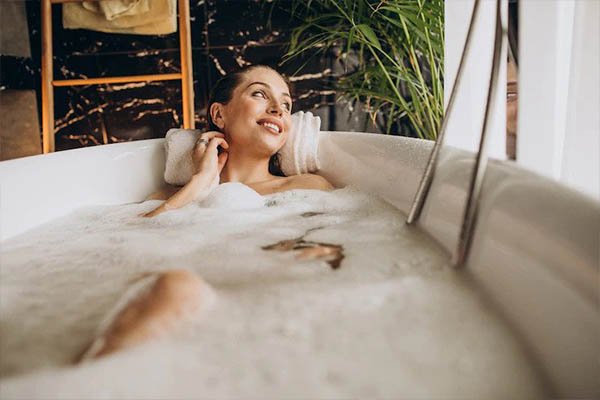 You're worth it! Let your creativity flow as you pour yourself a nice bath oil, choose a soothing bath bomb or make your own bath salts. You can add dried flowers or herbs to your bathwater. You can also play music or use essential oils to make your experience even more special and enjoyable. You can also pamper your skin by adding milk, oats, yoghurt or even coffee to your bathwater.
Coffee is an excellent exfoliate. It removes dead skin cells and makes your skin look smoother. It also helps reduce cellulite and stretch marks. Oats are an excellent skin moisturizer that also has soothing and anti-inflammatory properties. Yogurt contains lactic acid, which is a good exfoliate and helps reduce the appearance of scars and blemishes.
4) Light a candle
Adding a candle to your bathtub experience is a great way to add a special touch to your bath. A candle's scent or light can change your mood. Mood-boosting scents like grapefruit, bergamot, sandalwood and lavender can help you relax and feel more positive. A scented candle will make your bathroom smell amazing while also helping you unwind.
A scented candle can also help you unwind if you have trouble sleeping. A few hours before bed, light a scented candle and let the scent fill your room for about 30 minutes. This could help you fall asleep faster and stay asleep longer.
5) Watch the clouds move
Close your eyes, lie back in your bathtub and let yourself be carried away by the clouds. Let the water support you and help you be weightless. You can add a few drops of essential oils to the water or just close your eyes and let the sound of the water flow around you. You can also make silly faces and sounds underwater to let go of your stress and tension. Being in the water is very therapeutic and a good way to relieve tension in your body. It can be very restful and meditative, especially if you are in a warm tub with soft lighting.
6) Take time to think and write
A bathtub is a great place to think, reflect and be inspired. You can write down your dreams, goals and aspirations. Or you can use writing as a tool to explore your thoughts and feelings. You can also take this time to reflect on your day and explore what worked, what didn't and what you can do better tomorrow. Writing can help you clear your head, reduce stress and improve your mood. When you write, you're focusing on yourself and your inner thoughts. This could help you stay calm and be more productive when you're back in the real world.
Also refer to : 5 Weird Things That Swimming Does to Your Body
Bottom line
A bath is an excellent way to unwind and relax. It's a great way to clear your head, reflect and be inspired. When you take a bath, you can pamper yourself, unwind and relax, and even think and reflect to be inspired. So why not take the time to unwind and relax? You deserve it!