Living a healthier and happier life doesn't need to be complex or time-consuming; oftentimes it's the small changes we can make that can have the biggest effect. One simple yet impactful habit to form is getting sufficient rest each night: aim for at least 7-8 hours of uninterrupted slumber so your body and mind can function at their optimal capacity.
Staying hydrated throughout the day by drinking ample amounts of water is another simple but effective habit to adopt, and can help increase energy levels, improve digestion and support clear skin. Incorporating regular exercise into your schedule can also improve mood, reduce stress and promote weight management – finding something like walking, yoga or weightlifting you find enjoyable can make sticking with this habit much simpler.
Finally, making time each day for mindfulness practices such as meditation or deep breathing exercises can help alleviate anxiety and improve overall mental health. By adopting these simple practices into your everyday routine, you can create the foundation of a healthier and happier life.
1. Drink More Water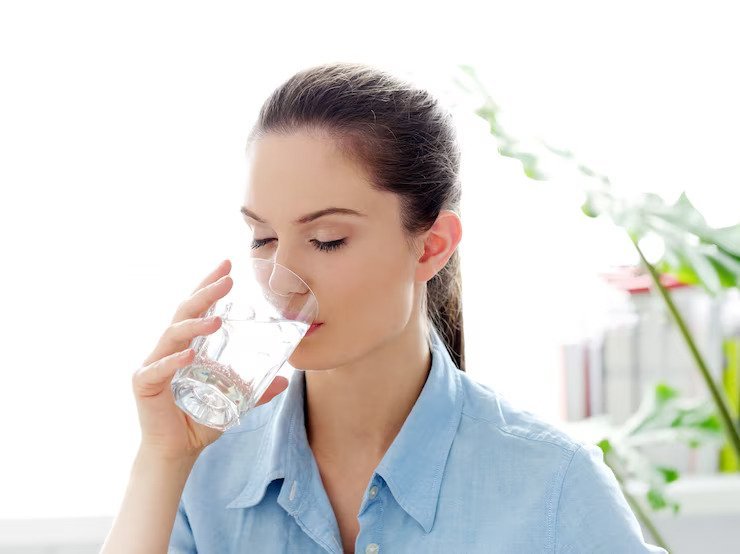 Water is essential to life. Drinking enough of it every day is critical to maintaining good health and well-being; yet many individuals fail to consume the recommended daily amount. By developing simple habits, however, you can increase your water consumption for better overall health and happiness in life.
One way to increase your water consumption is to always carry a water bottle with you – that way you can sip on some throughout the day without thinking twice! Also consider drinking a glass of water before every meal to help with digestion and aid in weight loss, or replacing sugary drinks with water as another means to cut calories and improve overall health.
By making small adjustments and creating healthy habits, it is easy to increase water consumption and enhance overall wellbeing.
2. Create A Morning And Evening Routine
Establishing a morning and evening routine can be an effective way of creating simple habits for a healthier and happier lifestyle. By setting this precedent, establishing positive routines that start your day off right may lead to greater productivity, improved sleep quality, reduced stress levels and greater happiness. Consider adding activities such as stretching, meditation, reading or journaling into your morning routine in order to boost energy, focus your mind and set intentions for what lies ahead in each day.
An evening routine should consist of activities designed to relax and unwind you, such as taking a warm bath, reading a good book, or practicing gratitude. Such activities will help relax both mind and body before bedtime – thus contributing to both physical and mental wellbeing. By developing such simple habits you can have an incredible positive effect on both aspects of health.
3. Eat More Leafy Greens
Eating more leafy greens is an easy and powerful way to improve both your physical health and overall well-being. Leafy greens such as spinach, kale, and arugula contain essential vitamins and minerals necessary for proper body functioning, while antioxidants protect cells against damage caused by free radicals. Incorporating more of these nutritious superfoods into your diet is straightforward – smoothies, salads or sauteing can all make great ways of adding them into the mix!
Adopting leafy greens into your diet regularly can improve digestion, raise energy levels, and decrease the risk of chronic diseases like heart disease and diabetes. Start eating more leafy greens now for a happier, healthier future!
4. Do Weekly And Monthly Life Reviews
Modern life can be hectic, making it easy to get caught up in daily chores and lose perspective of the bigger picture. That's why making weekly and monthly life reviews part of your routine can help keep you on track and ensure a healthier, happier existence. When conducting a weekly life review, take some time each week to reflect back over what happened during that particular week and set goals moving forward.
Think carefully about what worked and didn't, the accomplishments you made and areas where there's still improvement needed – this can help identify patterns and adjust your routine as necessary. A monthly life review offers more in-depth reflection of the previous month. Take time to assess your goals, celebrate any victories and acknowledge any setbacks so as to remain motivated towards long-term goals.
By developing the habit of conducting weekly and monthly life reviews, you'll ensure you're living the life you want – an easy yet powerful practice that can significantly boost your wellbeing.
5. Make A List Of Your Go-to Meals And A Go-to Grocery List
Making a list of your go-to meals and grocery lists may seem like a simple task, but it can have profoundly positive impacts on both your health and happiness. Planning meals ahead ensures a more nutritious diet without stressing over what to cook each night – not to mention making grocery shopping less burdensome! To get started, create your list by listing out all of your favorite dishes!
Once you've decided upon some meals, create a grocery list of all of the necessary ingredients you'll need to create them and stay organized by having everything on hand at all times. This will keep everything running smoothly!
As you make these familiar meals on an ongoing basis, you may begin to form a routine and feel more assured in your cooking abilities. Furthermore, this could allow for greater control of diet and overall health – setting yourself up for a happier and healthier future life! By developing these simple habits you could set yourself on the path toward living a longer and fuller life!
6. Define Your Personal Style
Establishing your personal style involves more than simply fashion choices; it involves your mindset and lifestyle habits as well. Making small adjustments to your daily routine can lead to healthier and happier living conditions. Begin by setting clear goals and intentions for yourself; this will provide direction and purpose. Then focus on prioritizing self-care by developing an individualized self-care routine.
Meditation, exercise and reading can all provide some sense of stress relief and relaxation. Declutter your space to minimize distractions; and surround yourself with positivity through meaningful relationships and activities that bring joy – these simple practices can become part of daily life to define who you are as an individual while leading an enjoyable existence.
7. Find Ways To Make Healthy Food Work For You
Healthy food is integral to living a longer and happier life, yet making healthy food part of daily routine can be dauntingly complex. One effective strategy to make sure healthy eating becomes part of daily life is meal planning in advance.
Create and adhere to a weekly meal plan in order to set yourself up for success in making healthier food choices easier and more enjoyable. Prep meals in advance so you have healthy options at hand when you need them, such as fruits and veggies as snacks instead of processed junk foods. Also essential is making healthy eating enjoyable by exploring new recipes and flavors – don't make healthy food an ordeal – make it enjoyable!
With these simple habits, you can make healthy food work for you and reap its rewards for a more vibrant lifestyle.
8. Evaluate Your Commitments
Evaluating your commitments is an integral component of living a healthier and happier life. This involves taking an in-depth look at everything you have committed to and seeing if they align with your values and goals. Building simple habits such as setting aside time each day to consider and prioritize these commitments may help facilitate this goal; making adjustments as needed and prioritizing commitments accordingly are effective ways of meeting this objective.
Practice mindfulness to gain more awareness of how your commitments affect both mental and physical wellbeing. Adopting healthy practices such as getting enough restful sleep, eating a balanced diet and regular physical activity will have a profound effect on overall well-being – simply evaluate and modify commitments accordingly to create more fulfilling and satisfying lives!
9. Identify Areas Of Negativity
Recognizing areas of negativity is vital to living a healthier and happier lifestyle. While it can be easy to fall into negative patterns and habits, with awareness and effort we can alter them and bring about positive change. One simple habit we can form daily is practicing gratitude – taking time out each day to give thanks for what we already have will change your mindset from lack towards abundance!
By developing these habits, we can create a more positive and fulfilling life. These practices include surrounding ourselves with positive people or media sources that will promote positivity; prioritizing solutions instead of problems; and shifting negative thoughts into more optimistic viewpoints. By building such habits into our everyday life, we can build up more lasting joy.
10. Instead Of Taking A Social Media Break, Get Up And Move
Social media has made it all too easy to get trapped into an endless scroll. Although taking a social media break may help, forming the habit of getting up and moving your body can lead to healthier and happier lives – regular exercise has been proven to reduce anxiety, improve mood, and overall increase your health and wellbeing.
Not everyone needs to spend hours at a gym to reap its benefits; simple activities like walking, stretching and yoga can have just as great an effect. So next time you feel inclined to scroll through social media feeds instead, consider getting up and moving instead – your mind and body will thank you in the long run.
Conclusion
Forming simple habits is key to improving one's health and happiness. Simply by making small modifications to daily routines, individuals can see immediate improvements to their well-being; such as including physical activity in daily routines, practicing mindfulness meditation techniques, setting consistent sleeping hours or eating healthy and nutritious food.
These habits can help reduce stress levels, boost energy levels, and promote better mental and physical health. But it's important to remember that developing new habits takes time and dedication; therefore, starting small and gradually creating lasting changes are key elements to achieve long-term happiness and wellness. By prioritizing self-care efforts and creating healthy routines individuals can live happier, healthier lives.
Also Read: Five Steps To Planning A Healthy And Balanced Meal Plan