Health Benefits of Consuming Cashew Nuts: Cashew nuts have long been recognized for their nutritious properties and delicious taste, making waves in the health world for years. Packed full of essential vitamins and minerals, cashew nuts provide numerous health advantages ranging from improving heart health to supporting brain function; these nutritious treats pack an abundance of nutritional goodness into each bite-size treat!
As this superfood continues to gain in popularity, it is imperative that we understand how best to utilize cashew nuts for optimal results. In order to unlock their full potential and reap their numerous health benefits, it's crucial that we become educated on all that cashew nuts have to offer and their ideal ways of inclusion in diet. Read on to discover more ways you can harness its power for optimal performance!
1) Improve Heart Health
Heart disease is one of the leading causes of death worldwide, so taking steps to protect oneself against its risks is vitally important. Cashew nuts contain magnesium which has been shown to play an instrumental role in lowering risk of cardiovascular disease as well as reduce blood pressure – two key steps toward mitigating its risks.
2) Maintain Healthy Brain Function
Healthy Brain Function Cashew nuts contain several essential B vitamins essential to optimal brain health. Vitamin B1 has been proven to increase focus, attention span and mood while vitamin B2 assists with serotonin synthesis that regulates mood and combats depression.
Vitamin B3 can improve focus and support a positive mental attitude. Magnesium has also been demonstrated to aid relaxation, which may improve sleep quality while decreasing risks such as stress, anxiety and depression.
3) Improve Bone Health
Bone health becomes increasingly important as we age, and cashew nuts contain many essential minerals – particularly zinc, copper and iron – that may aid in keeping bones strong and healthy. Zinc helps stimulate new bone formation as do copper and iron; both elements can aid those suffering from osteoporosis by encouraging bone regeneration.
4) Helps In Weight Management
Health professionals frequently recommend cashew nuts as an aid for weight management. Studies have demonstrated their efficacy at curbing appetite, leading to decreased caloric intake and weight loss. Furthermore, cashew nuts contain monounsaturated fatty acids which have been shown to help decrease LDL cholesterol – the type linked with heart disease – according to clinical studies.
How To Incorporate Cashew Nuts Into Your Diet?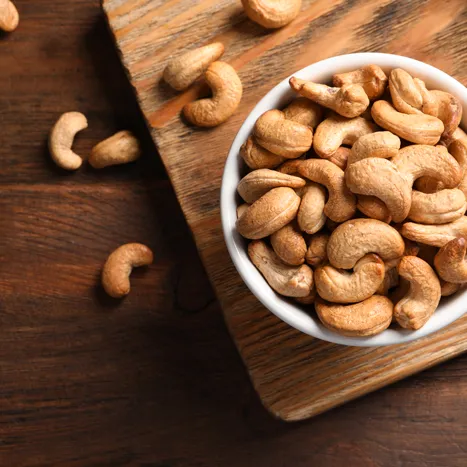 Cashew nuts are an irresistibly delicious and versatile food item, perfect for including in many different meals. From salad to trail mix and topping quinoa salad with them for an irresistibly satisfying crunch!
As cashew nuts contain high levels of fat and protein, it is wise to enjoy them only occasionally in moderation if trying to lose weight or lower cholesterol. An ounce of cashew nuts provides approximately 160 calories, 12 grams of fat and 6 grams of protein; for those counting their cals.
Potential Risks Of Consuming Cashew Nuts?
Cashew nuts pose few health risks when consumed responsibly; however, due to their high fat content they should be eaten with caution as overeating could cause weight gain around your midsection and increase the risk of diabetes and heart disease.
Due to their high fat content, people with diabetes are advised against eating cashew nuts due to the potential risk of sudden spikes in blood sugar. Furthermore, cashew nuts contain high levels of oxalic acid which impedes with absorption of iron, zinc and calcium, particularly concerning for people suffering from kidney stones or kidney issues.
Also Refer:-4 Amazing Health Benefits of Almonds
Conclusion
Cashew nuts are an irresistibly tasty and nutritionally dense snack, packed full of essential vitamins and minerals. Their versatility means they can easily fit into a wide range of meals from oatmeal bowls to trail mix.
Cashew nuts may contain high levels of fat, but they also boast substantial quantities of protein and fiber, making them an excellent superfood for those trying to shed excess weight. Consume in moderation to achieve weight loss – cashews may even help!