Health Benefits Of Consuming Cashew Nuts: Cashew nuts are a delicious and nutritious snack that has been making waves in the health world for quite some time. Rich in essential vitamins and minerals, cashew nuts offer a plethora of health benefits. From improving heart health to supporting healthy brain function, these tasty little treats are packed with nutrition.
As this superfood continues to gain popularity, it's important to understand the best ways to get the most out of cashew nuts. To unlock the full potential of this health-boosting snack, you'll need to be aware of the power of cashew nuts, the various health benefits they offer, and the best ways to incorporate them into your diet. Read on to learn more about how to unlock the health benefits of cashew nuts and get the most out of this superfood.
1) Improve Heart Health
Heart disease is the leading cause of death worldwide, so it's important to take steps to prevent it. Cashew nuts are rich in magnesium, which has been shown to play a role in lowering the risk of heart disease. Additionally, cashew nut consumption has been shown to cause a decrease in blood pressure, which is an important step in reducing the risk of heart disease.
2) Maintain Healthy Brain Function
The B vitamins found in cashew nuts are crucial for healthy brain function. Vitamin B1 has been shown to promote better focus, attention span, and mood. Vitamin B2 is involved in the synthesis of serotonin, which aids in regulating mood and combating depression.
Vitamin B3 can improve focus and help to maintain a positive mood. Magnesium has been shown to aid in relaxation, which can help improve sleep quality and reduce the risk of stress, anxiety, and depression.
3) Improve Bone Health
Bone health is an important consideration as we age. The minerals in cashew nuts, especially zinc, copper, and iron, can play a role in maintaining healthy bones. These minerals are necessary for the creation of new bone tissue, which can be particularly helpful for people who suffer from osteoporosis.
4) Helps In Weight Management
Many health professionals encourage their patients to consume cashew nuts for weight loss. Many studies have shown that eating nuts can cause a significant decrease in appetite, leading to decreased caloric intake and weight loss. Additionally, cashew nuts are rich in monounsaturated fats, which have been shown to decrease LDL cholesterol, the bad type of cholesterol that has been linked to heart disease.
How to Incorporate Cashew Nuts into Your Diet?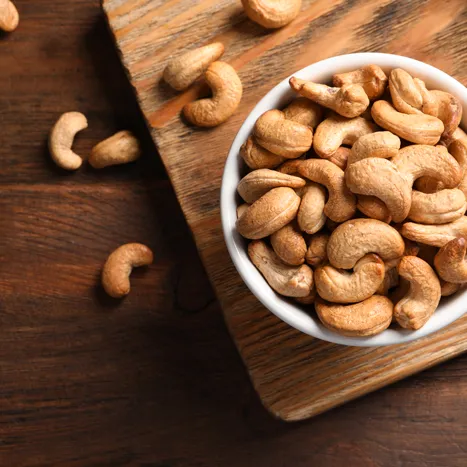 Cashew nuts are a delicious and versatile snack that can be incorporated into many different types of meals. Try adding them to a salad, including them in a trail mix, or topping a salad or bowl of quinoa with cashew nuts for a savory and satisfying crunch.
You can also stir them into a bowl of oatmeal, blend them into a smoothie, or use them as a garnish for savory dishes. Because of their high fat content, cashew nuts are best consumed in moderation. If you're trying to lose weight or lower your cholesterol, you should be careful not to overindulge in these tasty treats. A single ounce of cashew nuts contains about 160 calories, 12 grams of fat, and 6 grams of protein.
Potential Risks of Consuming Cashew Nuts?
There are very few risks associated with consuming cashew nuts; however, it's important to be mindful of their high fat content. Consuming too many cashew nuts can lead to weight gain, particularly around the midsection, which can increase your risk of diabetes and heart disease.
Because of the high fat content, many people with diabetes are advised to avoid cashew nuts, as they can cause blood sugar spikes. Additionally, cashew nuts contain high levels of oxalic acid, which can impede with the absorption of iron, zinc, and calcium. This is particularly problematic for people with kidney stones or kidney issues.
Also Refer:-4 Amazing Health Benefits of Almonds
Conclusion
Cashew nuts are a delicious and nutritious snack that is rich in essential vitamins and minerals. These tasty treats can be incorporated into many different types of meals, from a bowl of oatmeal to a trail mix.
Although cashew nuts are high in fat, they also contain significant amounts of protein and fiber. Because of their high fat content, it's important to consume them in moderation. For those trying to shed a few pounds, cashew nuts are an excellent superfood that can help you meet your goals.